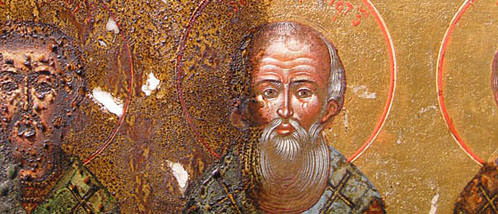 After years of frequent requests by our customers, we are excited to offer you professional icon restoration services that adhere to strict museum preservation standards, while being expedient and reasonably priced.
The restoration of icons has some pecularities requiring a specialist who understands the icon's unique structure. We have selected a highly-qualified team of U.S.-based icon restorers who have received training at the world famous State Hermitage Museum in St. Petersburg and have extensive experience specifically in the restoration of antique icons. These specialists have proven themselves to us by completing a number of restoration projects of various levels of complexity, all done on time and on budget. And because we personally supervise the logistics of the entire restoration process, you will receive the same level of service you are accustomed to when dealing with The Russian Store.



(Click on the images to see larger view)



Over their long life, icons are subjected to a number or factors that can drastically damage them and alter their original appearance.
Because icons are traditionally painted on a wooden surface using paints based in organic compounds, they are often susceptible to damage by micro-organisms. Mold, fungi, bacteria and insects - are all merciless enemies of icons. In addition, many icons suffered form careless and improper storage, exposure to excessive humidity, candle and lamp sud, sharp temperature fluctuations and various mechanical damage. An icon's protective varnish darkens and loses its transparency over time and eventually has to be removed and replaced. Finally, over their lifetime, many icons have been subjected to non-professional restoration with the main purpose of enhancing their appearance and marketability without any attempt to preserve their original appearance or historical value.
Frequently, icons come to us is such a state that almost none of their original painting is visible and large areas of their top layers are either completely lost or painted over at a later date. But there is still hope. Even icons which, from the first glance, might seem to be irreparably damaged, could be salvaged by a professional restorer and revived to their original luster.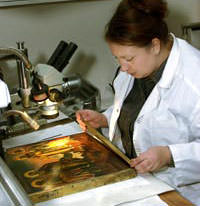 The Restoration Process

It is important to understand that the restoration of icons requires an extremely careful and respectful approach at all stages of the process. An icon is piece of multilayer art, comprised of a wooden base, layers of gesso, canvas, and a painted layer which is often parcel gilt and, finally, covered with many layers of varnish. No two icons are exactly identical in their construction or painting technique.
Restoration of icons begins with a careful examination, then the sub-surface layers are streightened with special glues and damage to these layers such as chips, cracks, bumps and flaking are restored. Only after these steps can restoration of a central painting field begin - the restorer has to choose between slight tints in some areas and complete repaints in other areas which sustained complete losses. After that, the outer layers are repaired, such as gilding and writing on the margins. Finally, the icon is coated with special varnishes for preservation purposes. The restorer always aims to blend the restored parts with original surfaces in order to create a unified appearance without clearly visible signs of restoration.



(Click on the images to see larger view)

How to proceed if you would like to consider our restoration services?

If you would like to consider our restoration services, the best way to proceed is to e-mail us clear photographs of both the back and front of your icon along with separate close-up images of visually apparent damage.
After we receive your images, we should be able to provide you with a rough estimate costs and time needed for the restoration process. Please note that we can only provide rough estimates until we have a chance to personally examine the icon.
If you decide to proceed with the restoration, you will need to either ship your icon to us (packed very securely) or bring it to one of the antique shows at which we exhibit. Within a few days of the receipt and examination of your icon, we will provide you with a final cost and time estimate and, after your approval, proceed with the restoration process.
Upon completion, you will be billed for restoration services and your icon will be shipped back to you upon receipt of your payment.
The restoration process typically takes from as little as 3 weeks to as long as 3 months (or even longer) depending on the complexity and number of procedures required.
We offer our restoration services as a benefit to our clients and aim to keep our pricing at a reasonable level so that we can assist in bringing ancient icons back to life. Contact us now for a free no-obligation estimate for restoring your icon.
Contact us now for a free no-obligation estimate for restoring your icon.