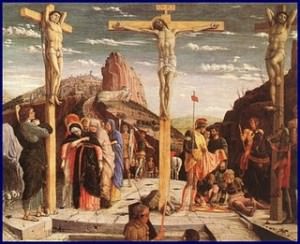 SS. Crucis D.N.J.C. [of The Most Holy Cross of Our Lord Jesus Christ]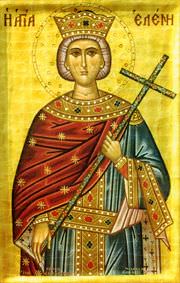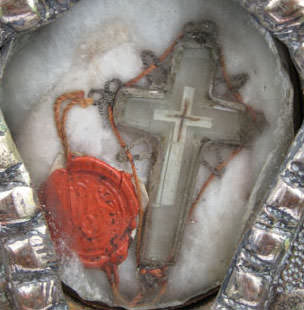 According to several Church historians of the 4th and 5th centuries, the True Cross was discovered in 325 AD when Emperor Constantine the Great ordered the removal of a pagan temple built by Hadrian over the site of Calvary and the Holy Sepulchre. Beneath the structure, in an old cistern, three crosses, the titulus with the inscription "Jesus of Nazareth, King of the Jews," and three nails, were found. In the presence of the Empress Helena, mother of Constantine, the Cross of Christ was identified by the 'titulus' and the nail holes, and later confirmed by a miracle. It was laid upon a sick woman who was immediately miraculously cured.
Helena divided the most precious wood into several parts, leaving a fragment in Jerusalem, sending a second to her son in Constantinople and taking a third to Rome. A part of it and half of the titulus with the inscription I NAZARINUS R... is still preserved and venerated in the Basilica di S. Croce, one of the seven main churches of the Eternal City. In 1998, a careful investigation was commissioned by the Holy See and seven Israeli experts on the dating of inscriptions (comparative palaeography) dated its letters into the 1st century, the time of Christ. This suddenly gave the 'legend of the Finding of the Cross' a lot of credibility.
As early as 349 AD, St. Cyril, Bishop of Jerusalem, stated that the True Cross "has been distributed, fragment by fragment, from this spot (Jerusalem) and has already nearly filled the world", confirming the early practice of distributing tiny particles of the Most Holy Wood. When St. Paulinus of Nola sent one to a friend in ca. 401 AD, he wrote: "Receive a great gift in a little case and take this segment as an armament against the perils of the present and a pledge of everlasting safety". He stressed that "even the smallest particle bears in it the whole power of the Cross of Christ."
Relics of the True Cross became very popular from the 9th century onwards and were housed in magnificent gold and silver cross-shaped reliquaries, decorated with enamels and precious stones.